The History of the Partners Global network:
In 1989, Raymond Shonholtz established Partners for Democratic Change dedicated to building sustainable local capacity to advance civil society and a culture of change and conflict management worldwide.
In the promising atmosphere following the downfall of Communism in Central and Eastern Europe, American and other foreign consultants flooded in with short-term training programs and policy recommendations. Partners took a different development path. Appreciating that democratic change and civil society building required new and acculturated skills and methods, Partners established from 1991 to 1994 six national Centers led by trained, local professionals, whose expertise over time would exceed the need of expatriate consultants.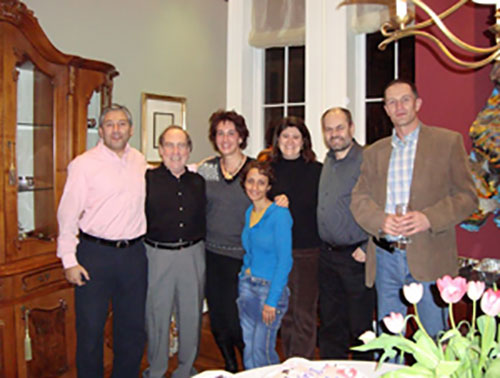 Initially, Partners located the Centers with their conflict management curricula, training programs and projects within major local universities in Poland, Lithuania, Hungary, Czechoslovakia (Centers in Bratislava and Prague before the separation), and Bulgaria. The university venue proved a fertile ground for introducing new ideas to emerging democracies. Prior to the revolutions of 1989, "conflict resolution" was a relatively unknown topic in the region, as the previous communist regimes rarely acknowledged the existence of conflict in their societies. In contrast, democratic societies frame policies, create institutions, and train professionals to address disputes as a way to manage conflict and create non-violent, democratic-based solutions.
While the university model enabled Partners to reach a generation of future leaders from a variety of fields, many of whom became prominent members of civil society and government, the university structure limited Centers' ability to become self-sustaining. In its steady expansion, Partners developed future Centers on change and conflict management as independent, in-country, civil society organizations located in: Albania, Argentina, Colombia, Georgia, Jordan, Kosovo, Mexico, Peru, Romania, Serbia, and Yemen. These Centers with their in-country boards of directors and staff were established with a mandate to build a professional cadre of mediators, negotiators, multi-stakeholder facilitators, and trainers in the government, civil society and private sectors. Partners serves as a support system for the Centers, co-developing programs, providing training and mentoring, and funding in conflict management skills, organizational development, and sustainability. Meeting often over the past 20 years, Partners and the Centers formally incorporated an International Association, formerly known as Partners for Democratic Change International under Belgium law in 2004.
Today: A Global Partners Network for Democratic Change
The Centers have developed into respected local institutions, providing a broad range of diverse programs in the government, civil society, academic and market sectors, and highly sought interactive training, applied mediation and facilitation, and consultation services that assist thousands of NGO, local and central governments, and business leaders. Often the first organization of its kind in a country, the Centers have modeled cutting-edge methodologies and professional performance, as well as pioneered specialized fields, including ethnic and minority conciliation commissions, labor, environmental, and family mediation, anti-corruption and accountable governance initiatives, and a broad range of participatory cross-sector processes.
Partners historically has pursued public policies legitimating mediation within a country's rule of law system. Such efforts include drafting local and national mediation and specialized mediation statutes. Partners' Centers applied participatory methodologies to this effort, modeling a new form of discussion, decision-making and consensus building in these transitioning societies. Today, Partners is the largest and only global change and conflict management institutional building organization. What began as an experiment within academic institutions is now an expanding, innovative international organization with 22 national centers as of 2019. Partners Centers are among the preeminent institutions in their home countries, supporting civil society, interethnic relations, network building, anti-corruption reform, family mediation, youth and women's leadership, local government reform, and a host of other initiatives. The Partners Network is in a close partnership, pursuing a common mission while maintaining individuality and local independence.